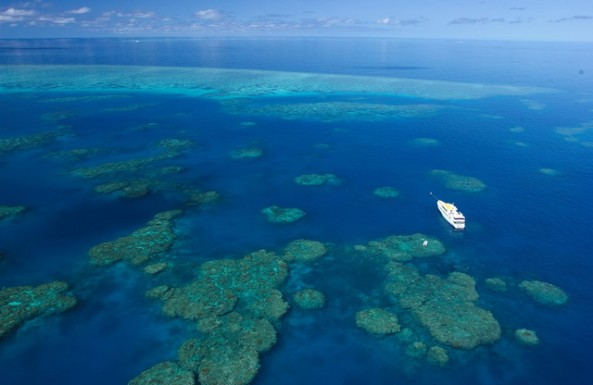 Stretching more than 2300 km along the coast of Queensland, the Great Barrier Reef is a complex ecosystem of around 2900 individual reefs. In the remote northern sector 10 string shaped coral reefs, collectively called The Ribbon Reefs, provide some of the most stunning tropical reef scuba diving in the world. Lying within the protected green zones of the Great Barrier Reef Marine Park, sites such as Steve's Bommie offer rich marine biodiversity, and endless macro photography opportunities.
Hundreds of kilometers beyond the Great Barrier Reef, Australia's Coral Sea harbours the undersea remnants of ancient volcanoes. Here, the diver is presented with sheer walls laced with massive soft corals and gorgonian fans, that plummet 1000 metres to the ocean floor. These isolated reefs, including Osprey and Bougainville Reefs are home territory for huge schools of pelagic fish, manta rays and sharks, and are renown for their crystal clear.
Diving the remote regions of the Ribbon Reefs and Osprey Reef in the Coral Sea, requires you to join a live-aboard scuba diving tour. Join Spirit of Freedom and witness the massive Potato Cod being fed at the Cod Hole, experience the thrilling shark dive at North Horn, Osprey Reef, and in the winter months you may even encounter the inquisitive Minke Whale on the Ribbon Reefs. Spirit of Freedom live-aboard dive tours depart from Cairns in the tropical north of Australia and offer 3, 4 and 7 night dive expeditions.